SOLAR ARRAY HELICAL ANCHOR FOUNDATIONS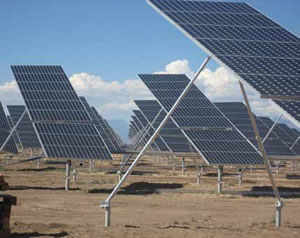 AB Chance has been providing performance and reliability in their helical pile foundation systems for over 90 years.  The solar power industry has depended on helical anchors due to the benefits they offer.  When you compare the benefits of helical earth anchors to other typical methods, you will see that it's the best economical solution to construct solar array foundations.
Here are some advantages of using helical pile anchor foundations for solar panels:
Eliminates the use of concrete which saves on curing time
There's no excavation or soil removal and minimal vibration disturbance which reduces the impact to the environment
Designed to resist winds and lateral forces
Quick installation time and immediate loading once shaft is installed
Permanent install or temporary install which can easily be extracted for reuse
If you would like to know more about this helical anchor foundation system, please use our form to contact one of our foundation specialists.