Helical Pier Company of New England
We Install Helical Piers, That's What We Do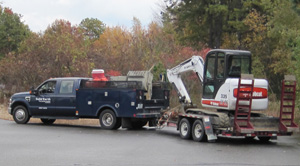 Solid Earth Technologies, Inc. installs deep foundation systems with CHANCE® helical piers. They are pre-manufactured steel deep foundation elements consisting of a central steel shaft and one or more helical shaped bearing plates. A helical pier is installed by rotating or screwing it into the ground. Each helical bearing plate is formed into a screw thread with a uniform defined pitch.  By adding extensions to each length allows the helical pier to go deep down into the earth until it hits firm soils for stabilization.
We are very reputable with engineers throughout New England because we have proven our experience, knowledge and value in every project we install.
If you would like to learn more of our services, Click here to contact one of our helical pier installation specialists.