TELECOM FOUNDATIONS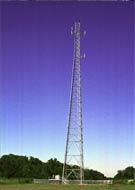 Applications for guyed structures, self-supporting towers, structures substations, and switching stations are all part of the CHANCE T/C (tension-compression) foundation and guy anchor product line. Applications in sensitive areas, high water tables, difficult access as well as normal soils make the CHANCE T/C foundation a priority in transmission line construction.
The CHANCE guy wire anchor, Type SS, made with A. B. Chance proprietary high strength steel can have capacities to 200,000 pounds tensile load. These guy wire anchors have been field proven over decades of service under the severest conditions.
For more technical information on helical anchored telecom foundations, you can go to our  CAD DRAWINGS FOR HELICAL APPLICATION & PRODUCT DRAWINGS within our website. 

---
Brochures on Product Application for Telecom Foundations
♦ Brochure on Power-Installed Foundations, Guy-anchors & Installing Equipment 
If you would like to know more about this helical guy anchor system, please use our form to contact one of our helical pile installation specialists.